Military Tactical Cargo Pants are the coolest pants that you can ever have!

Pants can be more than just clothing. They can be a major thing that you rely on for your adventure and something so useful that maximizes your convenience and comfort. 

The Marines rely on this military tactical Cargo Pants each day, allowing them to perform at their best. They're comfortable, breathable, and fully waterproof. These pants are perfect for trekking, hiking, climbing or you can just have them as ultra-convenient daily wear.

 Military Tactical Cargo Pants, the most comfortable men's tactical pants, are better than ever. Lots of pocket storage and full waterproofing, they're built to trek, hike, and move – but stylish enough to wear each day. They boast an impressive range of design additions.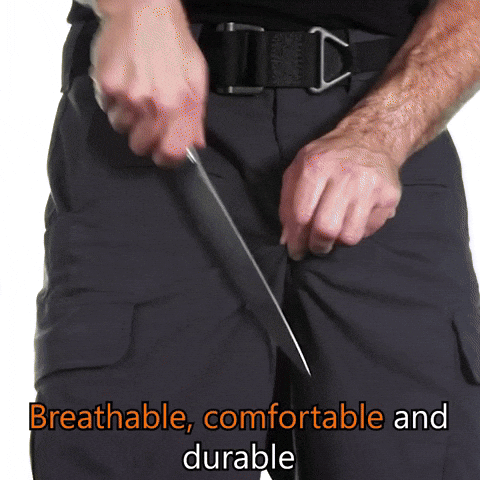 HOW DO YOU WASH AND DRY THEM?

Washing

Wash in cold or warm water only! Washing your pants in cold or warm water — never hot — preserves the colors in your pants so they hold fast and don't bleed or fade. 
Before you wash your tactical pants' brush away and shake out as much ground–in the dirt as possible.
Wash on a gentle cycle unless you need a heavy–duty wash for heavy–duty dirt. 
Dry

If you need to hang–dry your tactical pants' use these tips to make it go smoothly and efficiently

Use an extra spin cycle in the washing machine to remove all excess water first

Shake out and reshape your pants before hanging them to dry.

Avoid folding them over a clothesline' which can cause unsightly creases. 

Keep in mind that drip–drying may leave your tactical pants stiffer than tumble–drying' but a quality pair will break in and stay comfortable for years when cared for properly. 

If they're heavily soiled' pre-soak your tactical pants. Spot–treat them if you're afraid they'll stain. Then' wash on gentle cycle.
Use ordinary laundry soap or a very mild detergent. Don't use harsh detergents with bleach' because bleach can be corrosive to the tough fibers you're trying to preserve.